Awards
Lake State Roofing is voted the 2014 Peoples Choice winner!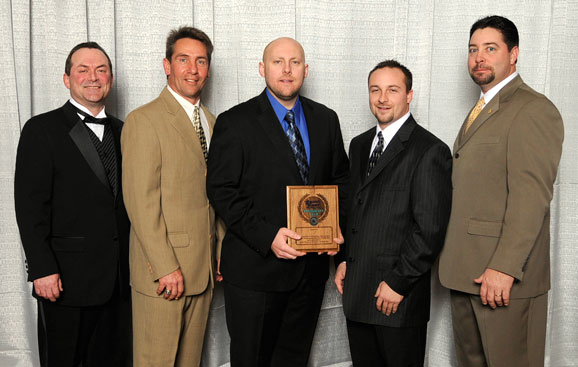 Duro-Last® Roofing, Inc. honors Lake State Roofing, Inc. with admission to The Presidents Club
SAGINAW, MICHIGAN—Duro-Last Roofing, Inc. honored Lake State Roofing Inc. during Duro-Last's National Sales Seminar held in Clearwater, Florida, in January, 2011.
In recognition of outstanding achievement in quality workmanship, customer satisfaction, and 2010 sales in excess of $250,000, Duro-Last welcomed Lake State Roofing Inc.to the Presidents Club.
"Duro-Last is extremely proud of Lake State Roofing's accomplishments," said Duro-Last Chairman of the Board Jack Burt. "Over the years, our company has grown into one of the largest manufacturers of thermoplastic single-ply roofing systems. We have enjoyed tremendous success because of the quality workmanship, professionalism, and dedication of companies like Lake State Roofing Inc. We are very fortunate to have them as an authorized contractor."
With corporate headquarters and a manufacturing facility in Saginaw, Michigan as well as other locations in Grants Pass, Oregon; Jackson, Mississippi; and Sigourney, Iowa, Duro-Last® Roofing, Inc. is the manufacturer of the "World's Best Roof"®. Since 1978, Duro-Last has produced a custom-fabricated, thermoplastic single-ply roofing system that is ideal for any flat or low-sloped commercial or industrial building. Energy-efficient and extremely durable, the Duro-Last roofing system is also leak-proof, virtually maintenance-free and resistant to chemicals, fire, punctures, and high winds. For more information, contact Fred Sitter at 800-248-0280 or visit www.duro-last.com.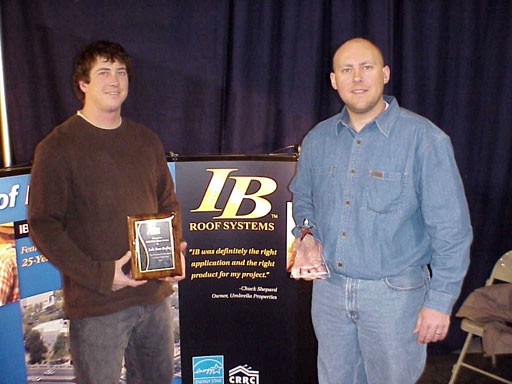 Lake State Roofing honored as an Elite Roofing Contractor
Lake State Roofing has been recognized by IB Roof Systems as one of the top roofing contractors in the single-ply industry IB Roof Systems only recognizes a few roofing contractors every year and honors them as being the elite contractors across the country, Lake State roofing has been able to reach this caliber. Lake State Roofing was awarded Rookie of the Year and honored for their professionalism, their quality workmanship and being well recognized in their community. They also received an award for installing over 100,000sf of IB Roof Systems PVC single-ply membrane in 2005.
We believe Lake State Roofing to be one of the finest contractors in the industry and we are very pleased with the caliber of their workmanship. "Lake State Roofing has shown us that they are truly concerned about providing the best quality roofing system available to their customers." Larry Stanley, President, IB Roof Systems.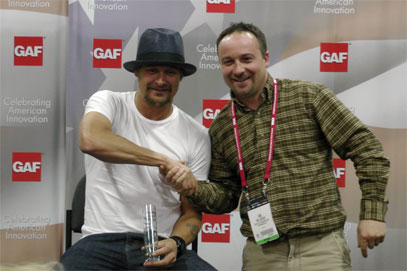 Meeting Kid Rock at the GAF booth
of the Roofers Expo in Las Vegas, NV.